Stepped Model of Integrated Behavioral Health Care
Printer-friendly version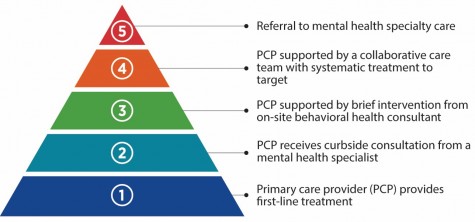 The AIMS Center is most widely known for its work in spreading the Collaborative Care Model (CoCM) but many of the practices we work with incorporate CoCM into a "blended" or stepped model that combines other behavioral health interventions and strategies. Blended models of care seen in successful integrated care practices frequently combine CoCM and the Primary Care Behavioral Health (PCBH) Model, also known as the Behavioral Health Consultant Model. 
The CoCM and the PCBH Models are sometimes erroneously viewed as competing models. In practice however, these two models are frequently blended in a very complementary way within the same practice setting. If clinician roles, workflows, and target populations are thoughtfully defined, then a stepped measurement-based model can address the varied behavioral health needs of a much larger segment of a clinic's patient population.  
The Primary Care Behavioral Health Model
Behavioral health consultants, usually a PsyD, PhD, or master's level clinician, typically see an individual patient for a limited time and a limited number of visits, balancing the time spent working with individual patients with the need to make consultation services readily available to a sizable clinic population. 
"Visits with behavioral health consultants are typically brief (10-30 minutes), solution-focused, and aim to provide patients with tangible behavioral skills to improve their daily function," says Brian Sandoval, PsyD, Yakima Valley Farm Workers Clinic (YVFWC) Primary Care Behavioral Health Program Manager. "On any given day, a consultant may be asked by primary care providers to assist and intervene over a wide range of issues: depression, anxiety, substance use, sleep hygiene, smoking cessation, and situational stressors such as marital discord or grief at the loss of a family member."  
At YVFWC, a network of twenty medical clinics in Oregon and Washington, behavioral health consultants work as part of the primary care team on a daily basis, maintaining enough flexibility in their appointment schedule to be available for same day, "warm patient hand-offs" or other transitions from the primary care provider or other members of the team.
Dr. Sandoval and his colleagues in other Eastern Oregon PCBH programs estimate that a full-time consultant typically works with 1,300 to 2,000 patients each year, depending on clinic size and patient population.  
PCBH is used widely in the Oregon Health Authority's Health System Transformation efforts. As part of Oregon's Coordinated Care Organizations, YVFWC and other primary care providers have a quality financial incentive in place for depression screening and follow-up. The quality metric requires providers to screen patients 12 years and older for depression using an age-appropriate standardized tool. If the screen is positive, the measure requires documentation of a follow up treatment plan. YVFWC fulfils this measure by having patients meet with the BHC on the same day as the medical visit. Measurement and reporting on patient clinical outcomes (i.e., remission or improvement of a patient's depression symptoms using the PHQ9), is not currently required in Oregon's quality metrics. 
YVFWC has implemented the PCBH model in many of its locations and Dr. Sandoval understands that there are trade-offs if the model is used exclusive of other intervention strategies. "Often, the flexible service delivery of the PCBH model and large reach of the population comes at the cost of being able to deliver more structured and intensive care management services and psychiatric consultation to some high risk patients." He notes that PCBH programs vary considerably in their access to psychiatry services, ranging from embedded psychiatrists to programs that rely solely on referrals to specialty mental health providers. 
Case Study: HealthPoint
HealthPoint, a network of twelve clinics in suburban King County near Seattle, WA, has combined elements of both PCBH and CoCM in its integrated care model for many years. Beginning in 2002, HealthPoint developed a PCBH program, adding psychologists as behavioral health consultants to their primary care teams. In 2008, as part of an early pilot of the Washington State Mental Health Integration Program (MHIP), the organization hired social workers as behavioral health care managers.  
In HealthPoint's stepped care model, the consultant and care manager work together in the same clinic and focus on different patient populations. The consultant provides brief visits, which emphasize symptom management and psychoeducation, with few follow-up appointments, and provide prompt consultation and feedback to the primary care provider. Patients who have more complex behavioral health needs and are at high risk for poor behavioral health outcomes are referred to the behavioral health care manager and enrolled in the CoCM program, if eligible for MHIP. The care manager is able to provide more intensive follow up interventions over time for patients in the CoCM program. Patients in the CoCM program are also supported to reach target improvement goals through psychiatric consultation to the primary care team. At HealthPoint, the consultant and care manager meet weekly to discuss cases and determine if patients are assigned to the appropriate caseload.  
Most importantly, the behavioral health consultant and the behavioral health care manager both use the same measurement-based care strategies to guide diagnosis and treatment for their patients. HealthPoint uses the PHQ-9, GAD-7, MDQ, PC-PTSD, and GAIN-SS screeners most frequently. The front desk staff, as part of the primary care team, hands out a paper form of the PHQ-9 to patients to complete as they check in for their appointment.  
In CoCM, most behavioral health care managers can effectively carry an active caseload of around 75 or more patients, depending in part on the target population for the CoCM program. A full time care manager may treat between 150 to 250 patients during a year, depending on patient length of stay on caseload. Patients enrolled in CoCM programs typically see improvement and stay on a caseload for an average of six months.
 "When PCBH and CoCM work together well, patients receive the most appropriate level of care [to meet their needs]," says Dr. Sandoval. "Care managers [are able to] to treat more complex patients rather than being utilized for needs that can be met by the behavioral health consultant."
Evan Oakes, MD, HealthPoint's Medical Director and a family practice physician, discussed building a stepped, measurement-based model designed to meet the needs of a larger, broader range of patients. Dr. Oakes called attention to the importance of differentiating the roles of the behavioral health consultant and the care manager at the beginning of program implementation. In particular, he notes that it is important to define how these two roles will interact differently with the primary care providers. Consultants, who have a more open appointment schedule, work flexibly alongside the primary care providers on a daily basis. Care managers, who have a busier appointment schedule managing their caseload, typically have a scheduled meeting with each HealthPoint primary care provider on a regular basis to discuss patient progress, challenges, and follow up on psychiatric recommendations. Dr. Oakes advised:  "Don't underestimate what it means to involve the clinic team. You can't keep it limited to clinicians; involve the front desk staff as well."
Remember
Combining CoCM and PCBH allows an organization to provide a wider range of options for treating mental health conditions. 
Determining clear roles and goals of the primary care team members helps these two models work together cohesively. 
Emphasizing communication between team members is paramount when combining these two models; include a broad definition of the team.