Collaborative Care Case Study: Behavioral Health Integration Program
Printer-friendly version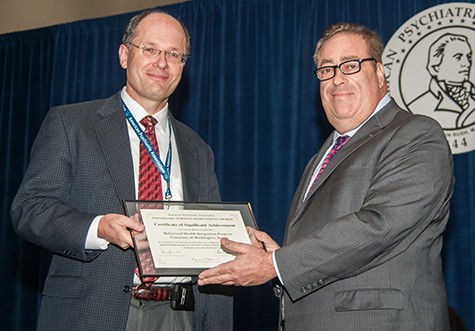 The Collaborative Care model of integrated care developed at the University of Washington has been put in place at more than a thousand clinics across the country, including in the backyard of UW Medicine. The Behavioral Health Integration Program, or BHIP, has not only recently expanded to include all nine UW Neighborhood Clinics – a system of primary care clinics located throughout greater Seattle – but also received a Certificate of Significant Achievement from the American Psychiatric Association in October for the innovative way it integrates behavioral health care into primary care clinics. The program is also in place at five other clinics throughout the UW Medicine system.
"Both the expansion and the APA award signifies a growing recognition that Collaborative Care helps people get effective treatment for common mental health conditions like depression and anxiety," said Jürgen Unützer, Chair of the University of Washington's Department of Psychiatry and Behavioral Sciences. "We are proud to be able to offer quality, mental health care to our neighbors and we can use our experiences in BHIP to help improve how Collaborative Care is delivered locally, nationally and around the world."
Formally launched in 2012, BHIP is an evidence-based and team-based model of Collaborative Care in which primary care providers are supported by clinic-based behavioral health care managers and psychiatric consultants, effectively bringing mental health treatment to where people feel comfortable receiving care. In this way, mental health care becomes an integral part of standard healthcare and mental health specialists are effectively 'leveraged' to reach more patients in need. The clinics vary in the populations served, which include patients who are commercially insured and employed as well as safety net patients who are medically complex, homeless, immigrants or remotely located. BHIP is funded by a combination of public and commercial billing, support from a managed Medicaid plan and Public Health – Seattle & King County, and support from the UW academic health care system.
BHIP Team Members and Staffing
The Collaborative Care team at each BHIP clinic is comprised of a PCP, 1 FTE care manager (nurse or clinical social worker), one 0.2 FTE psychiatric consultant, and the patient. The clinical team cares for a defined group of patients and closely tracks each patient's progress using validated clinical rating scales (e.g., PHQ-9 for depression). Treatment is systematically adjusted if patients are not improving as expected, and patients who don't respond to treatment are referred to more intensive mental health specialty care. Psychiatrists and care managers have dedicated time for caseload-based psychiatric case reviews for patients who are new to the program, not well-engaged, or are not improving. Psychiatric consultants work directly in the clinics, which is different from many Collaborative Care models where the psychiatric consultant speaks with the care manager via phone. The important principle is that all members of the team work together to care for the patient.
"Patients regularly tell me that they appreciate being seen as a whole person, where all aspects of their health are addressed in one place," said Monica Miller, MSW, Care Coordinator/Social Worker at the UW Neighborhood Ravenna Clinic. "It has been a very rewarding experience for me to be a part of our Collaborative Care team."
There is some variation of this basic model across sites. Some clinics have a separate social worker for traditional social work tasks, and some sites have one or more additional mental health providers such as a MA-level behavioral health counselor or a chemical dependency counselor. In 2013, two clinics split the 0.2 FTE psychiatry time.
BHIP Psychiatrist Role
A typical assignment for a psychiatric consultant includes 20% time (8 hours/week) structured around caseload-focused review (2-3 hours), direct patient consultation (4-5 hours), assisting with program coordination, quality improvement efforts, and training (1 hour), and at some locations, supervision of Psychiatry residents/fellows. Direct patient consultations focus on select patients who are presenting diagnostic or therapeutic challenges to the team.
"I work closely with a care coordinator and my primary care colleagues in helping identify patients who may need mental health services," said Denise Chang, MD, BHIP psychiatric consultant. "This not only reduces stigma and increases access to mental health care, but it is also an effective, efficient and rewarding way of serving a large and diverse group of patients."
Unützer notes that BHIP is not designed to provide care for patients who are more complex, such as a patient with difficult to manage bipolar disorder, and instead is meant to support patients who can be managed within primary care.
Program-Wide Goals and Effectiveness
BHIP utilizes a web-based Care Management Tracking System (CMTS) that supports population-based care, provides patient outcome measures, and assists in quality improvement efforts such as tracking on stated goals. In October 2012, several benchmarks were established for the BHIP program: increase patient access by care managers and across all BHIP clinics, improve patient outcomes on measures of depression and anxiety, increase provider satisfaction with care management, and improve provider satisfaction with psychiatric consultation.
When measured in August 2013 using numbers generated by CMTS, the BHIP program had exceeded initial targets for each of the seven indicators. The success of the BHIP program is consistent with other findings. More than 80 randomized controlled clinical trials have shown that Collaborative Care results in improved clinical outcomes, increased patient satisfaction and overall functioning, and lower total health care costs, achieving the Triple Aim of health care reform. But perhaps the biggest mark of success comes from the testimonials of patients and providers.
"You have no idea how helpful it is for a provider to have a resource like BHIP in the clinic," said a primary care provider at one of the UW Neighborhood Clinics. "I practiced for 16 years without it and I will never go back!"