Care Manager Spotlight: Monica Miller
Printer-friendly version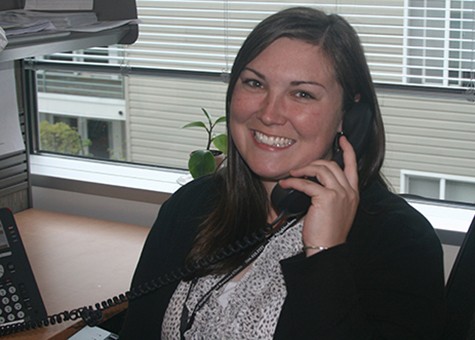 The Ravenna Clinic is tucked away among University Village yoga studios and restaurants. As one of the newer University of Washington Neighborhood Clinics, it has an impressive appearance. Elegant windows overlook the trees of the local biking trail, and in the lobby, cheerful receptionists greet patients amid a colorful décor. Monica Miller, MSW holds a unique position at this clinic - she is the care manager for the Behavioral Health Integration Program (BHIP), UW Medicine's version of Collaborative Care.
Monica was first exposed to Collaborative Care while working as a social worker in trauma and mental health at Harborview Medical Center. She had received her Master's in social work from the University of Washington and had become passionate about her role in helping patients most in need. She knew that social work was the right field, but felt that something was missing.
"I love working with people," says Monica. "I love connecting people with resources and enabling them to be aware of their own strengths. With trauma care, you see people in their most vulnerable state and are able to raise them up during the hardest times. But then you never see them again. You never get to know the end of their story."
Monica's desire to know "the end of the story" prompted her to apply for a position in primary care where she felt she could develop long-term relationships with her patients. She landed at the UW Neighborhood Ravenna Clinic which has an impressive assortment of holistic medicine. Ravenna offers in-house mental health treatment, acupuncture, nutritional services, OB/GYN, optometry, primary care and a Collaborative Care approach to chronic conditions such as diabetes, depression and anxiety.
"Before seeing Collaborative Care in action, I didn't know Western Medicine could incorporate such a holistic approach to care," says Monica. "I think it's definitely the right approach - it makes so much sense."
Although primary care is the setting where most depression and anxiety treatment occurs, few primary care providers feel they have adequate training in mental health care or enough time to provide effective mental health treatment. Collaborative Care adds two new members – a care manager and a psychiatric consultant – to the traditional care team that consists of the patient and primary care provider (PCP). Care managers support the PCP in his/her role by coordinating treatment, alerting the PCP when the patient is not improving, supporting medication management, and facilitating communication with the psychiatric consultant regarding treatment changes. In Monica's case, she works closely with psychiatric consultant Denise Chang, MD, UW Department of Psychiatry and Behavioral Sciences. Care managers also offer brief counseling and help facilitate changes in treatment if patients are not improving as expected.
Monica employs both her background in social work and traditional care management in order to juggle her varied responsibilities. Many of her social work skills such as safety assessments, collaboration, and brief therapy sessions transferred to her new position, and she quickly adapted to the unfamiliar aspects of Collaborative Care including working with a caseload of patients and proactively following up with treatment response.
"Monica has an extraordinary level of commitment to following up with her patients and encouraging them to return to the clinic," says Marc Avery, Associate Director for Clinical Services at the AIMS Center. "It can take a lot of effort to engage patients, and care managers have to be dedicated and persistent. Monica has this in spades and her patients improve because of it. She catches patients who might normally fall through the cracks."
The ability to follow-up with patients is vital when treating chronic conditions such as depression and anxiety that may require treatment changes. In fact, adjusting the treatment plan based on symptom measures is one of the most important components of Collaborative Care. Most patients require at least one treatment adjustment, and many require more, but knowing what's working or not requires the patient to come back.
"Treatment is challenging because the depression or anxiety is the very thing that keeps people from coming back to the clinic, picking up the phone, or returning my calls," says Monica. "It can be very difficult to get them to come in, to do the work on their own time and keep themselves safe. I have to remember how difficult it is to get help. The hardest moment is when we encounter someone we cannot serve. Severe mental illnesses, like psychosis or schizophrenia, have to be referred outside the clinic. I have to acknowledge that some patients don't fit with the program. You can't be everything to everyone."
For those patients who do fit the program -- those with chronic mental health conditions that can be treated in primary care -- BHIP has been very successful. The program has improved patient outcomes for depression and anxiety and increased provider satisfaction with care management and psychiatric consultation. In fact, BHIP has exceeded each of its initial targets set at the launch of the program. BHIP's results are consistent with over 80 randomized controlled trials that have proven Collaborative Care is more effective and affordable than normal care and that it achieves the "Triple Aim" of health care reform: increasing patient satisfaction, improving clinical outcomes, and lowering overall health care costs. Much of BHIP's success goes to dedicated care managers like Monica.
"My whole experience with Collaborative Care has been positive. My patients love it. The model just makes sense. I hope someday it can be available for every patient, everywhere. I want to be a care manager for a very, very long time. I love my work and I want to keep doing it. I can't imagine myself anywhere else."
This story was written by Gabriel Hardt, a Research Study Assistant at the AIMS Center (9/23/2014).