Anna Hink, MSW, LICSW
Printer-friendly version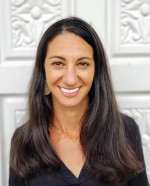 Anna has over a decade of experience providing social work services to underserved and diverse populations in medical and community-based settings.
In 2008, she led the implementation of a collaborative care program that served pregnant women, mothers and children at two community health center sites.  Anna served as a collaborative care care-manager in the high-risk moms program at Country Doctor Community Clinic for 6 years, where she also led DSHS First Steps Maternity Support Services and Infant Case Management Services for low-income families. Anna additionally has worked as a Social Worker at Harboview Medical Center's Madison Clinic, serving adults impacted by HIV/AIDs in primary care, and as an inpatient hospital social worker.  
Anna Hink, MSW, LICSW joined the AIMS center as a Clinician Trainer in 2018 and earned her Master of Social Work degree from the University of Washington and an undergraduate degree in International Affairs/Spanish from the University of Puget Sound.