Sara Ochoa, M.Ed.
Printer-friendly version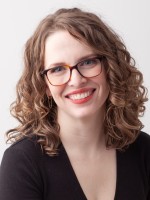 Sara joined the AIMS Center in March 2020 as an instructional designer, supporting its numerous education and training projects and programs. Before coming to the AIMS Center, she worked at North Seattle College, teaching language and culture, developing curriculum, marketing internationally, and managing and training the staff of the campus tutoring center. Much of her work in higher education focused on equity, access, and representation for non-native English speakers. She also worked as an EFL instructor in Hiroshima, Japan, prior to moving to Seattle.
Sara received a Bachelor of Science degree in Communication Sciences & Disorders from the University of Texas at Austin and completed her Master's degree in Teaching English to Speakers of Other Languages (TESOL) at Seattle University.