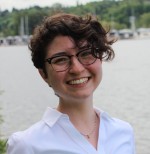 Project Manager & Practice Coach
Shaina joined the AIMS Center in 2018 to oversee the development, management, and evaluation of training materials and provide programmatic support to a variety of implementation projects. In July 2019, she transitioned into the role of project manager and practice coach.
Shaina received her Bachelor's degree in psychology from Northwestern University. While there, she co-founded Northwestern's chapter of Active Minds, an organization dedicated to promoting open discussion and education about mental health and illness on college campuses. She also interned at the National Runaway Safeline, utilizing crisis intervention skills with youth experiencing homelessness or considering leaving home. She then spent three years managing the Social Cognitive Development Lab [1] at Yale University, splitting her time between research facilitation with children and adults, participant recruitment efforts, and lab administration. Shaina returned to school for her Master of Public Health through the Community-Oriented Public Health Practice (COPHP) program at the University of Washington and worked with providers in King County's school-based health centers to assess the factors affecting their consistent use of measurement-based care practices with student clients.