Pushing the Boundaries of Integrated Care Research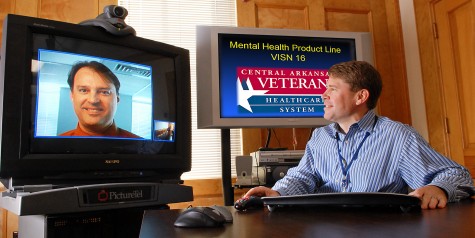 A new member of the AIMS Center started his tenure here with a bang and a lot of press. John Fortney, PhD [1] joined us as the Associate Director for Research in September and recently published an intriguing study in JAMA Psychiatry [2] about alleviating PTSD symptoms in U.S. Military veterans living in rural areas using a telemedicine-based Collaborative Care approach. John's research focus is on identifying and overcoming barriers to mental health care for rural populations and he has already proven to be a great addition to our team.
"When the opportunity arose to head the research being done for the AIMS Center, I jumped at it," says John. "They [AIMS Center] have really helped shape the field of integrated care and I couldn't wait to expand the model's reach into rural America."
The AIMS Center has always had strong roots in research. Born out of the IMPACT study [3], the largest depression treatment study to date, the Center has continued to be at the forefront of integrated care research and adaptations of the Collaborative Care model developed at the University of Washington. A substantial body of evidence for Collaborative Care has emerged over the past 20 years, particularly for depression but increasingly for other conditions as well including anxiety disorders, PTSD, and co-morbid medical conditions such as heart disease, diabetes and cancer.
Most of the evidence demonstrates the effectiveness of Collaborative Care in medical settings such as primary care and specialty medical care, but researchers are exploring other settings as well such as OB/GYN clinics and schools. One of John's interests is developing and disseminating telemedicine-based interventions to improve care for rural primary care patients. He has been using telemedicine technologies (telephones, interactive video, electronic medical records, web-based decision support systems) to help provide team-based collaborative care within a virtual clinical environment, where patients, physicians, therapists, and care mangers are separated from one another by distance.
In his new role, John will guide the AIMS Center's three areas of research: observational research, effectiveness research and implementation dissemination research. A major strength at AIMS is the interaction among investigators who work in these realms: observational studies, effectiveness studies, and implementation studies.
Investigators conducting observational studies apply a variety of methods (qualitative interviews, surveys, chart reviews, and analyses of administrative data) to better understand the factors that influence whether or not patients get the help they need and are looking for. Observational research also looks at process and quality of care factors that impact patient outcomes. Observational research methods determine when, where, and how to intervene effectively to improve outcomes and how to best facilitate the sustained adoption of evidence-based practices by provider organizations.
Effectiveness researchers focus on designing new treatments (e.g., brief psychotherapies) and engagement interventions (e.g., smartphone apps), and evaluate their effectiveness among diverse populations. Implementation researchers develop and evaluate new methods (e.g., pay for performance reimbursement) to promote the adoption of these emerging evidence-based practices into routine care.
"My hope is that during the next 5-10 years, the AIMS Center can become a truly translational research center. I want our investigators to apply the knowledge gained during observational studies to the development of new interventions and to facilitate the implementation of these new interventions into routine clinical practice," says John.
John received his doctoral degree in geography where he discovered a passion in asking and answering questions, leading him on the path to becoming a researcher. As a post-doctoral fellow, he became the second geographer to receive research funding from the National Institute of Mental Health (NIMH). John has worked closely with Veterans Affairs (VA) throughout his career as well as with Federally Qualified Health Centers (FQHCs).