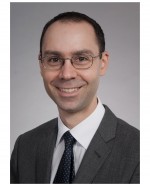 Acting Assistant Professor, Psychiatry & Behavioral Sciences
Joseph Cerimele MD, MPH is an acting assistant professor in the Department of Psychiatry and Behavioral Sciences at the University of Washington. He is a psychiatric consultant for the Washington State's Mental Health Integration Program [1] (MHIP), and currently works with Dr. Anna Ratzliff [2] to train primary care clinics in implementing Collaborative Care treatment programs.
Dr. Cerimele completed psychiatry residency at Mount Sinai School of Medicine in 2012. He then completed research training in Primary Care Psychiatry in Dr. Wayne Katon's [3] NRSA fellowship at the University of Washington. His general research interest is in primary care psychiatry with a current focus on improving recognition and quality of care for primary care patients with bipolar disorder seen in safety net settings. Dr. Cerimele also completed an MPH degree at the UW School of Public Health where he was selected as a scholar in the Tobacco Studies Program. He has been awarded the Webb Fellowship from the Academy of Psychosomatic Medicine.