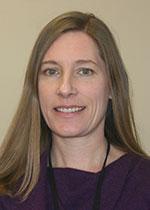 Associate Professor, Psychiatry & Behavioral Sciences
Amy Bauer, MD, MS is an assistant professor in the Department of Psychiatry & Behavioral Sciences at the University of Washington. She is a psychiatric consultant for the University of Washington's primary-care based Behavioral Health Integration Program [1] (BHIP) and Washington State's Mental Health Integration Program [2] (MHIP), and co-director of the UW Integrated Care Pathway: Psychiatry in Medical Settings, a program within the Division of Integrated Care and Public Health [3]for Psychiatry residents.
Dr. Bauer has research training in Health Care Policy and in Primary Care Psychiatry and is the recipient of an NCRR-funded Career Development award through the Institute of Translational Health Sciences at University of Washington. Her current research focuses on understanding and addressing health literacy barriers to self-management for people with chronic diseases, with an emphasis on the use of technology to support patient self-management and the delivery of evidence-based mental health services. Dr. Bauer attended medical school at the UC Berkeley / UCSF Joint Medical Program and has completed Psychiatry residency at Massachusetts General Hospital and McLean Hospital and a fellowship in Psychosomatic Medicine at Cambridge Health Alliance and is board certified in Psychiatry and in Psychosomatic Medicine.