Improving Depression Care in the Rural West
Printer-friendly version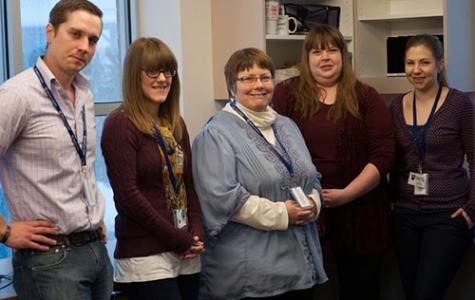 Anyone living in a rural community knows that finding help for depression can be tough. Many of the 39 counties in Washington State don't have a single licensed mental health professional, and the same is true for other rural areas throughout the United States. So when Partnership Health Center in Missoula, Montana had the chance to expand the mental health care they could offer patients, they jumped at the chance.
Partnership Health Center (PHC) became one of eight primary care community clinics to implement collaborative care through a $1 million Social Innovation Fund (SIF) grant provided by the Corporation for National and Community Service to the John A. Hartford Foundation. The Foundation contributed an additional $1 million to: 1) provide seed money to support CoCM implementation at the clinics, and 2) fund clinic-level implementation support, provider-level training and skill-building, and initiative evaluation provided by the University of Washington's AIMS Center. The goal of this initiative was to increase access to effective, evidence-based depression treatment for low-income people living in rural, medically underserved areas of the WWAMI region (Wyoming, Washington, Alaska, Montana, Idaho).
"Some of our most successful stories are from older gentlemen who have very little support around their retirement," said Charles "Chaz" Rourke, community health specialist at PHC. "They think they have to white knuckle their way through depression, and just having people to talk to helps. After coming to Partnership and starting collaborative care, they see that life can be better."
Like most of the clinics chosen to be part of this Social Innovation Fund (SIF) initiative, PHC serves patients with difficult lives. The clinic provides health care for the homeless shelter down the street, has a contract with the Montana Department of Corrections to serve people on parole, and is the center of care for a large population of people living with HIV. People hear about their sliding fee scale and drive long distances to get care there.
"We have patients who have a hard time advocating for themselves," says Rourke. "We're here for the people who can't otherwise articulate their needs. We have their back."
Collaborative care, also called IMPACT care because it was used in the landmark IMPACT Study, is a specific approach to integrating treatment for mental health conditions developed and initially tested at the University of Washington. Since those early studies more than 20 years ago, more than 80 additional studies have been conducted and all show the same outcome – collaborative care gets many more patients better and does so more quickly than the usual treatment provided in primary care. Collaborative care creates a team that  includes the patient, primary care provider, care manager, and psychiatric consultant who all work together to achieve patient and clinical goals by measuring progress and using proven  treatments until the patient is better.
 "Implementing collaborative care isn't easy," said Diane Powers with the AIMS Center who directed this initiative. "Clinics have to develop an entirely new workflow and build a team of providers with different backgrounds and perspectives that all work together as a real team instead of referring patients to a behavioral health provider who sits in the clinic and functions as an independent provider. The clinics chosen for the SIF grant demonstrated they were willing to do the hard work involved with genuine practice change. We're really pleased with the results."
Five clinics, including PHC in Missoula, launched collaborative care in October of 2013. Three additional clinics were recently chosen and will launch in the fall of 2014. Each clinic is required to match its award dollar-for-dollar. Although each clinic has a different culture and a different outlook, their overall goal is the same.
"We were all chosen for a reason," says Rourke. "We all want to provide better mental health care for our communities. Being able to get advice from the other clinics has been really helpful as we try to figure out what works best for us. That and being comfortable with a little ambiguity. There have been a lot of changes along the way."
 
Organizations that received SIF grants include:
Bighorn Valley Health Center in Hardin, Montana. Hardin is located in southeastern Montana and serves a population of 13,000. It encompasses most of the Crow Indian Reservation and part of the Northern Cheyenne Indian Reservation. Award amount: $230,000 over two years.
Butte Community Health Center in Butte, Montana. Butte is located in the southwest region of Montana and has been providing primary care for 28 years. More than 17,000 patients are seen annually and serves nearly one-third of the population of southwestern Montana. Award amount: $200,000 over two years.
The Community Health Center of Central Wyoming in Casper, Wyoming. The oldest and largest Federally Qualified Health Center in the state. In 2012, Wyoming had the nation's highest suicide rate and the entire state is considered a mental health professional shortage area. Award amount: $314,000 over two years.
Kodiak Area Native Association (KANA) in Kodiak, Alaska. Formed in 1966 as a 501(c)(3) nonprofit corporation, KANA provides health and social services for Alaska Native. It serves ten federally recognized tribes in the City of Kodiak, as well as six remote Alaska Native villages (Akhiok, Karluk, Larsen Bay, Old Harbor, Ouzinkie and Port Lions). Award amount: $384,000 over two years.
Mat-Su Health Services in Wasilla, Alaska. Mat-Su opened its doors in 1977 and became a Community Health Center in 2005. Award amount: $465,000 over two years.
Partnership Health Center in Missoula, Montana. Partnership has provided healthcare services to the medically underserved for over 21 years. Award amount: $488,000 over two years.
Peninsula Community Health Services in Bremerton, Washington. Peninsula has used an integrated care approach to mental health in primary care since 2002. Award amount: $320,000 over two years.
Valley View Health Center in Chehalis, Washington. Valley View has provided integrated behavioral health services since 2009. Patients served will include a group considered to be "high utilizers"— individuals who frequently end up in the criminal justice system or local emergency rooms due to untreated mental health and addiction issues. Award amount: $350,000 over two years.