Co-location is Not Enough
Printer-friendly version
The most significant difference between Collaborative Care and co-located care is that Collaborative Care is proven to be significantly more effective at treating conditions like depression and anxiety in over ninety research studies. The same cannot be said about co-located care, in which primary care and behavioral health clinicians provide services in the same location but practice independently.
The figure below shows the eight health care organizations that participated in the IMPACT study, a national study of Collaborative Care for depression that is the largest Collaborative Care study ever conducted. The organization circled had master's level, co-located behavioral health clinicians in each participating primary care office. Patients were randomly assigned to receive either usual care or Collaborative Care. At the highlighted clinic, usual care included referral to these co-located behavioral health clinicians and:
Behavioral health clinicians practiced within the primary care clinic

Primary care providers referred patients to the master's level behavioral health clinicians

Behavioral health clinicians practiced independently and u

sed a traditional specialty care approach (50-minute psychotherapy sessions)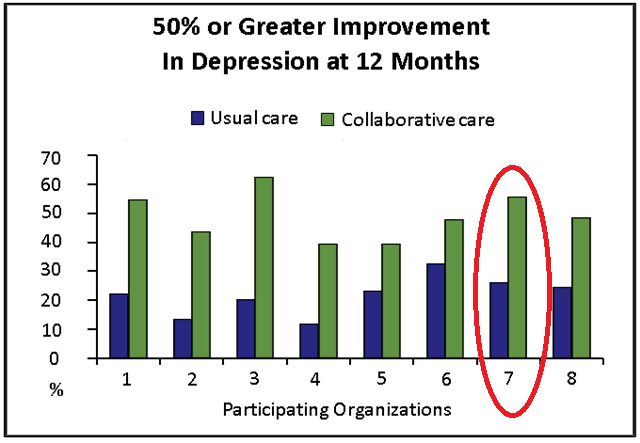 Collaborative Care patients were twice as likely to have significant improvement in their depression as compared to patients receiving usual care (including referral to the co-located therapists).