AIMS Center Collaborates on Behavioral Health Implementation Resource
Printer-friendly version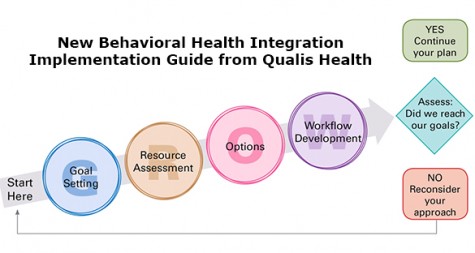 A new resource is now available to help primary care practices integrate behavioral health care. The Behavioral Health Integration Implementation Guide is the most recent addition to the Safety Net Medical Home Initiative Resource Library, which provides tools to help primary care practices become Patient-Centered Medical Homes (PCMH). According to primary author Anna Ratzliff, PhD, MD of the AIMS Center, the guide is a good introduction and can be useful for any organization wanting to implement integrated care.
"The most important aspect about this guide is the flexibility it has to fit all kinds of organizational needs," says Dr. Ratzliff. "It can support the full spectrum of organizations engaged in this work, from those just starting down the path of integrating behavioral health care to those that have mature systems in place."
The Behavioral Health Integration Implementation Guide provides clear guidance and concrete strategies on behavioral health integration including creating a vision, building integrated care teams, monitoring progress, and providing population-level accountability, particularly important for organizations implementing Collaborative Care. Case examples of centers and clinics who have already implemented behavioral health care are dispersed throughout the guide as are quotes and testimonials from patients who received care from an integrated care team.
The guide includes an innovative G.R.O.W. Pathway Planning Worksheet – Grow, Resources, Options, Workflow - that guides an organization through the steps needed to successfully integrate behavioral health care into their clinical process. It also includes a section devoted to the important topic of how to sustain behavioral health care efforts over time.
 "Implementing integrated care requires an extensive organizational change that requires careful planning, organization and sustainability," says Dr. Ratzliff. "Having clear goals that are continually reassessed is vital to ensuring a successful, dynamic implementation. This guide removes the guesswork of what should be done and provides worksheets, checklists, tools, and resources to keep the practice on track when they first start out and helps them keep true to their vision as they become a fully integrated organization."

The guide was produced through collaboration among the AIMS Center, Qualis Health, and the MacColl Center for Health Care Innovation at the Group Health Research Institute, supported by The Commonwealth Fund. Dr. Ratzliff was supported by a project team including Jürgen Unützer, MD, MPH, MA (Director, AIMS Center), Ed Wagner, MD, MPH, MACP (Director Emeritus, MacColl Center), Jonathan Sugarman, MD, MPH (President & CEO, Qualis Health), Kathryn Phillips, MPH (PCMH Program Director, Qualis Health) and others.
"Creating this behavioral health integration resource has been a true collaboration. Diverse stakeholders contributed their expertise, allowing us to publish a resource set we believe will be useful for all primary care practices," said Ms. Phillips. "Our goal was to create a practical and operational resource to support integration. The guide includes an extensive annotated bibliography and additional resources for organizations looking to find out more information about implementing behavioral health care."
The Behavioral Health Integration Implementation Guide is available for free on the Safety Net Medical Home Initiative website.
For more information, read the full Qualis Health Press Release.