The AIMS Center helps build Collaborative Care teams through SIF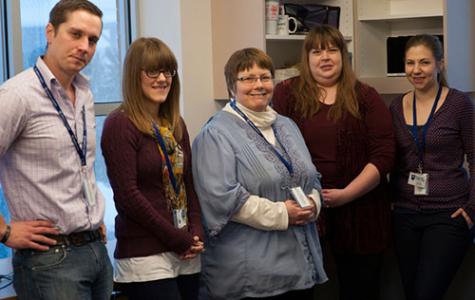 Poor mental health is a major public health issue that robs millions of people of their chance to lead healthy and productive lives. Depression alone doubles overall healthcare costs, worsens other medical conditions, and results in a staggering loss of productivity at work. In underserved rural areas in the WWAMI (Washington, Wyoming, Alaska, Montana and Idaho) region, the severe lack of qualified mental health workers compounds these problems.

The AIMS Center will help five nonprofit primary care clinics in the WWAMI region implement effective mental healthcare for depressed adults and evaluate the effects of this care as part of a two year, $2 million Social Innovation Fund (SIF) grant.

The AIMS Center will help up to 1,000 adults receive mental health treatment at each of the five WWAMI sites over the next two years using Collaborative Care, an evidence-based integrated care model developed at UW that was used in the landmark IMPACT study led by Jürgen Unützer, director of the AIMS Center Chair of the Department of Psychiatry and Behavioral Sciences in the UW School of Medicine. The SIF project targets patients who are low-income and live in rural areas designated by the federal government as Health Care Provider Shortage Areas (HPSA) and/or Medically Underserved.

"This new funding allows us to help patients in multiple underserved regions of the Pacific Northwest," Unützer said.

Collaborative Care brings effective depression treatment to primary care settings by using a collaborative team approach, including a psychiatric consultant and a depression care manager. By providing systematic, caseload-focused consultation, psychiatrists can support evidence-based mental healthcare for a large number of people. The model has been shown to double the effectiveness of depression care, reduce disability, improve quality of life, and earn a return on investment of $6.50 for every $1 spent, achieving the "Triple  Aim" of improved patient care experiences, better clinical outcomes, and lower health care costs.

The SIF grant is provided by the Corporation for National and Community Service to the John A. Hartford Foundation. The Foundation will contribute an additional $2 million to fund the first five depression care subgrants and to support technical assistance, training and evaluation from the AIMS Center. Each subgrantee organization is required to match its award.

The organizations receiving grants are:

The Community Health Center of Central Wyoming, Casper, Wyo., is the oldest and largest Federally Qualified Health Center in the state. In 2012, Wyoming had the nation's highest suicide rate and the entire state is considered a mental health professional shortage area. Award amount: $314,000 over two years.

Mat-Su Health Services, Wasilla, Alaska, opened its doors in 1977 and became a Community Health Center in 2005. Award amount: $465,000 over two years.

Partnership Health Center, Missoula, Mont., has provided healthcare services to the medically underserved for over 21 years. Award amount: $488,000 over two years.

Peninsula Community Health Services, Bremerton, Wash., has used an integrated care approach to mental health in primary care since 2002. Award amount: $320,000 over two years.

Valley View Health Center, Chehalis, Wash., has provided integrated behavioral health services since 2009. Patients served will include a group considered to be "high utilizers"­­­­— individuals who frequently end up in the criminal justice system or local emergency rooms due to untreated mental health and addiction issues. Award amount: $350,000 over two years.