Trainers and Staff
Learning Network Trainers and Staff
The AIMS Center utilizes New York based practice coaches in partnership with AIMS Center expert clinician trainers to support effective practice change for behavioral health integration, planning for implementation of the Collaborative Care Model (CoCM), and to provide behavioral health clinician training and technical support for New York Medicaid primary care providers.
Ashley Heald, MA
Project Manager
Ashley Heald is a senior project manager & practice coach at the AIMS Center, providing pre- and post-launch project management and coaching for several integrated care initiatives in the States of California and New York. She has been with the University of Washington for more than 10 years, providing research coordination, psychometric, and data tech services for the Departments of Radiology, Rheumatology, Psychosocial and Community Health, and Psychiatry and Behavioral Sciences. Most of her research experience centers around the areas of memory and aging. Ms. Heald received a Bachelor of Arts degree in Psychology and a Master of Arts degree in Sociology at George Mason University.
Email address: aheald@uw.edu
Eunice Kim, LMSW
Practice Coach
Eunice Kim received her Master of Social Work degree at Washington University in St. Louis and is a licensed mental health clinician in the state of New York. During her career, she has worked with people across the life spectrum, who have experienced trauma as well as those diagnosed with developmental disabilities and/or behavioral health disorders within hospital, school, and outpatient settings. She has experience providing Collaborative Care as a Depression Care Clinician and conducting trainings on various components of the model, including Problem Solving Treatment. 
As a practice coach, Eunice works directly with clinics to facilitate effective practice change in support of their collaborative care implementation. Collaborating with clinician trainers and AIMS Center project managers, Eunice instills project management and quality improvement measures to help usher clinics through the stages of collaborative care implementation and ensure a successful, sustainable program. 
Email address: Eunice.Kim@sph.cuny.edu
Rita Haverkamp, MSN, PMHCNS-BC, CNS
Trainer
Rita has a master's degree in psychiatric nursing from the University of Cincinnati and is a psychiatric clinical nurse specialist who is licensed as a therapist in the state of California. She has provided implementation and clinical support to numerous FQHC's and other agencies across the country for the past 10 years. Currently, she is a consultant and a senior trainer with the AIMS Center. Rita also provides consultation and training in Collaborative Care to organizations as an independent consultant. For the past 26 years, she has worked for Kaiser Permanente - 11 years as an outpatient therapist in the psychiatric department and 15 years in the primary care department doing collaborative behavioral health care. Rita was a depression specialist in the original IMPACT trial and is a frequent speaker presenting on the IMPACT model, problem-solving treatment and cognitive therapy. She supervises and certifies providers in PST-PC. She has three publications in peer-reviewed journals regarding integrated care.
Email address: ritahaverkamp@me.com
Lori Higa, RN-BC, BSN
Trainer
Lori Higa has worked as a home health and hospice nurse case manager for Group Health Cooperative since 2007. She received her Bachelor's in nursing from Seattle University in 1993. She started her career in community mental health working with deaf, mentally ill adolescents, adjudicated youth, and school-based mental health programs at Seattle Mental Health. She has coordinated several research studies at the University of Washington studying wound healing, fibromyalgia & chronic fatigue. She has worked as a depression case manager providing behavioral activation and problem-solving therapy for three different research studies following the original IMPACT study. Those studies were PATHWAYS - a research study treating diabetic patients with depression, the CARE study - providing education and treatment options for adolescents with depression, and the IMPACT-DP pilot study - treating older patients with arthritis pain and depression in total for 7 years.
Email address: lori.higa.rn@gmail.com
Virna Little, PsyD, LCSW-R, SAP
Trainer
Virna Little is the Associate Director of Strategic Planning at the Center for Innovation in Mental Health at City University of New York (CUNY). Prior to her role at CUNY, Ms. Little was Senior Vice President of Psychosocial Services and Community Affairs at the Institute for Family Health in New York where she was responsible for the administration and delivery of behavioral health, community, and grant funded programs in twenty six centers throughout New York City and New York State's Hudson Valley Region. Ms. Little has extensive experience providing behavioral health services in healthcare settings as well as developing and operating community programs. She has expertise in HIV/AIDS, homelessness, substance abuse, the chronic medically and mentally ill, and the financial viability of integrated care. She has been recognized nationally for her work in the integration of primary care and behavioral health, including the implementation of evidence-based models such as Collaborative Care.
Ms. Little partners with the AIMS Center to provide training and consultation on multiple implementations.
Email Address: Virna.Little@sph.cuny.edu
John Kern, MD
Clinical Professor
John Kern, MD, is a clinical professor whose work at the University of Washington is focused on supporting collaborative care training and implementation. Previously, Dr. Kern was the Chief Medical Officer at Regional Mental Health Center in Merrillville, IN, where he practiced for over 25 years. Over the last 10 years, he has developed and supervised several collaborative care programs, including IMPACT-model behavioral health in primary care program, a PBHCI grant providing primary care for a seriously mentally ill population, and has developed and served as Chief Medical Officer of a new Federally Qualified Health Center, working toward a completely integrated health system. He is one of the authors of the recently-published American Psychiatric Press textbook on integrated care for psychiatrists as well as a SAMHSA-sponsored curriculum for training psychiatrists in integrated care, and has taught and consulted widely on integration of care.
Email address: jkern2@uw.edu
Kristi Malmstrom
Program Assistant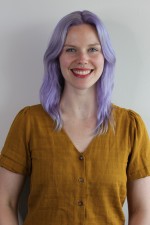 Kristi Malmstrom joined the AIMS Center in January of 2018 as a Program Assistant, providing support for the implementation of Collaborative Care and a number of AIMS Center projects. Kristi has been a part of the UW community since 2011, as an undergraduate and a staff member. During her time as a student, she provided research assistance in a memory and cognition lab under Geoff Loftus, studying facial recognition as it relates to eye-witness accounts. Kristi graduated from the University of Washington in 2015 with a Bachelor of Science degree in Psychology. Her time in the program fostered an interest in the stigma surrounding mental health and the issue of mental health care accessibility.
Email address: kjm27@uw.edu